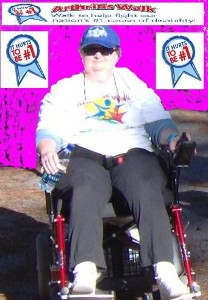 thedubrat photo
Username:
thedubrat

Interests:
My Family, Friends, Books, reading, collecting, Bingo, many online games, Photography, making pic collages, Advocate for various Charities
Location:
Rambling, finding a new way to get where I am going, wait, where am I going?
About:
I have Rheumatoid Arthritis, Osteoarthritis & Fibromyalgia and this is my story.
It began one day in late 2000, I got out of bed that morning and my left ankle would not hold my weight. It was as if I had sprained it during the night. I could not remember any type of twisting or turning, or miss-stepping over the past few days, but here I was, limping. As the day progressed, my right ankle started. I called my doctor and the dance began. X-rays, orthopedic doctors, tests, more doctors. My ankles never got better. In April of 2001, I woke up and could not use my hands. I was terrified. I had been so engrossed with my ankles; I never realized the over-all pain and fatigue, not until that day. I went immediately to my doctor, he took one look at me and ordered the RA tests, gave me some meds for the pain. By the next day, we knew, or he did, I did not believe it. I made my doctor re-run the test 3 times. I could not believe it. How could this happen to me? How many of you out there have asked that question? It is one of the hardest things I have ever had to accept. As things progressed, it became harder and harder. I just could not accept it. Here I was a person who was constantly on the go, the one everyone called in a crisis, and I thrived on it (still do). I walked 5 - 7 miles everyday. Visited my grandchildren and mother in Tennessee every other weekend. Worked 12 - 16 hours every day, including weekends if not traveling. I mean, HOW COULD THIS HAPPEN?? THIS IS NOT FAIR! I'VE PAID ENOUGH! I'VE BEEN SICK ENOUGH IN MY LIFE ALREADY! That's what kept going through my mind, all the while the doctors are saying, if we can't find a regime of meds that will work, within 5 years you'll be in a wheel chair, you have to quit working, don't travel, don't walk, don't drive, don't ride, don't, don't, don't&&. And I'm thinking, OK Rebecca, you've struggled with anemia since you were 12, you beat ovarian cancer at 22, a return of cancer at 31, severe iron deficiency requiring intravenous iron treatments for a year at 33, you bounced back each time, you can beat this. Yet, the more I struggled, the more I lost. The meds made me sick, I gained 60 pounds on the steroids, more meds, more sickness, no immune system, a light heart attack, pneumonia, you name it. And throughout it all, the fatigue, intense fatigue, so&so&tired. I could not go. I could barely work. Everything and everyone suffered. I didn't recognize myself. If I needed to grocery shop, I had to plan it, no more just run by the store, oh no, once I got off my feet and in the car on the way home from work, I may not be able to get out of the car at home for at least an hour. I didn't dare go to the grocery store and let someone see me like that. I did not ask for help, would not here of it, would not admit I needed it. Finally, one Friday after work in early 2003 I started my usual weekend trip to Tennessee. Less than 45 minutes into it, the pain became so intense I had to pull off to the side of the road. I sat there for another 45 minutes realizing I was beside the road with no way to get home until the pain subsided or someone came looking for me. It was devastating. I finally realized, I had to ask for help. I called Tennessee, told them I could not make it, turned the car around, went home and cried.
THEN - I GOT INVOLVED - I SAID, "I MAY HAVE RA BUT IT DOES NOT HAVE ME"
No more denial. I talked to my family and friends. I had been letting it win, even though I didn't realize it, I had been wallowing in self-pity. I pulled out all the information the doctors gave me, I had looked at it and set it aside with a "surely that's not going to be me". I picked that material up, got on the internet, I bought everything I could find on my disease, I asked my doctors for every possible treatment, pros and cons of each. And you know, that's it, that's the trick, acceptance. Accepting the fact that you have a life-altering disease.
NOW, having said that, remember, ACCEPTANCE IS NOT GIVING UP - NEVER GIVE UP - JUST FIND A NEW WAY TO GO.
It's like traveling; I've always done a lot of that by car. I love to find the "back way"; I hate interstates, no sights to see. I have always said,I have never been lost, I just find a different way to get where I'm going." My kids have always loved that, my family too.
That's how I approach my RA. It took me a while, but I realized, I'm not lost, just finding another way to get there, going down a different road, and who knows what I'll find, definitely new friends and opportunities. Remembering that, especially in the dark moments, always brings me back in focus.
My doctors tell me I'm the most stubborn woman they've ever met, and that's probably the truth. Recently, when I told them I had signed up for and was going to participate in the 2005 Arthritis Walk, they made the statement, "Six months ago, we wouldn't have given you a nickel that you would still be here in May 2005, much less participating in an Arthritis Walk. You came close, very close to not surviving, and your determination to find the right combinations of meds/treatments was a huge piece of your recovery."
Always remember:
ACCEPTANCE IS NOT GIVING UP - NEVER GIVE UP - JUST FIND A NEW WAY TO GO
GET INVOLVED IN YOUR TREATMENT
TALK TO YOUR DOCTORS
TALK TO YOUR FAMILY & FRIENDS
BUILD A SUPPORT NETWORK
DON'T TRY TO DO IT ALONE
ACCEPTANCE IS CONSTANT, THE FIRST AND LAST STEP
ALWAYS LOOK FOR THOSE NEW ROADS OR MAKE THEM YOURSELF!
I'm in remission at the moment and I don't know how long it will last, but I take each day as a gift and a blessing, keep up the fight and accept the fact that I can slow down, and you know what, I enjoy every single minute of it, pain and all.
Each and every day I wake up, my first thought is, I'm still here! HA!
Let your voices be heard, each and every day, to those who control the monies for research, the drug companies, the doctors, anyone and everyone who can make a difference.

Teamwork will always win, and we have a great team, including our families and friends.
Congratulations to everyone who participated! See you next year!
A Special Thank You to my Family and Friends who supported me. I cannot do this without you. I'd be nowhere and nothing without them.
thedubrat
SURVIVOR OF RA
I'm still fighting, my remission only lasted a few months and my fight gets harder every day, but I still fight.
Forum Posts:
12
Credits:
20
Winnings:
$$ (?)
User Level:
1

Registered :
July 10 2009

Last Logged In:
December 24 2016

Last Visited:
Bingo Mania
July-08-2011